Join us for our 2020 Virtual Gala!
Presented by
Mark your calendars for the 17th annual angels among us GRACE Gala, presented by Atmos Energy on Saturday, November 7, 2020, a live streaming event to benefit those who come to GRACE for help.
If you have partnered with GRACE by volunteering or have attended the GRACE Gala in the past, you know this premier event is the best around. We intend to make the virtual event truly unforgettable. Your evening at home will be filled with fine wine, meaningful stories, and the highest caliber entertainment and auction items. The night is a celebration of the community's generosity. This event helps GRACE provide shelter, food, clothing, education and medical attention to families in the midst of hardship through GRACE programs.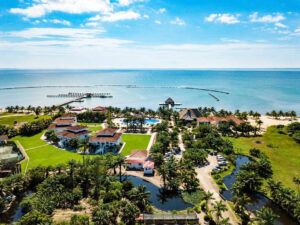 The winner of the Annual GRACE Gala Raffle on November 7th, 2020 will receive a 5-Night All-Inclusive Stay for 2 and airfare to the Placencia Resort in Belize!
The winner of the Annual GRACE Gala Raffle on November 7th, 2020 will receive a five-night all-inclusive stay for two and 75,000 American Airlines to Belize!
The Placencia Resort is situated on the beautiful Maya Beach, just a short journey away from the quaint village of Placencia and all the activities Belize has to offer. The Placencia Resort is perfectly located for access to both jungle and ocean adventures.
Enjoy the on-site amenities, swim-up bar, spacious pool, restaurants, an overwater bar, marina, and more. Complete your vacation experience by seeing the stunning Belize Barrier Reef, Maya Mountains or simply lounging by our incredible pool and its tropical swim-up bar. After a day of adventure, live in luxury with one, two, or three bedroom accommodations.
With three restaurants, including an overwater bar, this is the Caribbean resort of your dreams!
PURCHASE TICKETS HERE
$50 EACH OR FIVE FOR $200
This year's raffle prize was generously donated by Roni Townson & Lynda Warner
Meet Our Gala Hosts for the Evening